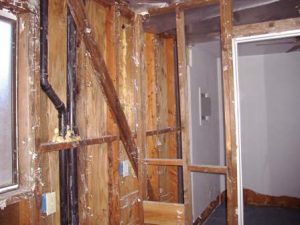 Santa Clarita Valley is blessed with incredible weather, unlike many other areas around the country. Even as we head into summer we now have breezy, sunny days and clear, cool nights. Though rain is not in our forecast, flooding can still become a problem when you least expect it.
Pipe LeakMost water damage scenarios for Southern California are caused by infrastructure issues, slab leaks, plumbing, appliance failure, etc. A broken pipe while you're at the beach can be significantly damaging if not noticed for hours, or even by the next day. Calling a professional water damage restoration company, like CBC Cleaning and Restoration, to assess the disaster is crucial to help mitigate further problems and avoid mold growth or other related circumstances that can develop. Water damage left unattended or undiscovered, can effect drywall, carpeting, area rugs, flooring, furniture, cabinetry and many other areas of your home, including the air quality.
Burst pipes are, of course, quite obvious and much easier to detect than a slab leak. These barely visible cracks in pipes can cause water to leak out slowly and in small amounts to underlying structure. This type of water disaster can be undetected for months and cause severe damage to your property. Recognizing when your water bill rises significantly can alert you to a problem. Another indication is the presence of a moldy or musty odor. This is the precursor to mold growth, especially if the slab leak is near drywall. This type of damage, if allowed to continue can even cause foundational issues and require substantial restoration.
We are certainly blessed with fantastic weather and minimal threat of outside flooding, but maintenance and inspection of your property is always the best defense against unwanted water leakage. When it comes to water, the smallest amounts in unwanted areas can become the biggest problem because it can go unnoticed. So, even when dry, hot summer is upon us, certain scenarios are still possible. Stay protected and ready by getting the CBC Cleaning and Restoration App on your cell phone. Go to www.CBCFirst.com/24hour, and bookmark the page. You will have 24-hour access to emergency services and quotes literally at your fingertips.