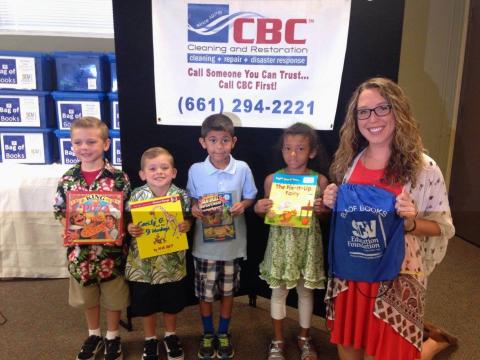 All four of the Santa Clarita Valley elementary school districts (Castaic, Newhall, Saugus and Sulphur Springs) are involved in the Bag of Books program, which placed 30 bags into 25 different kindergarten classrooms, impacting over 600 students last year alone. Each Bag of Books contains four books for the students check out on Monday, take home to read, and then return on Friday. The following Monday, they get a new bag with four new books. By the end of the school year, the students will have read up to 140 books!
CBC is a PROUD sponsor and supporter of the Bag of Books program and we are very excited to see how many schools get to have this program in their classrooms.
For the 2016-17 school year, the SCV Education Foundation would like to continue to add more schools across the valley to their program. If you would like to be a sponsor of the program, a donation for a single Bag of Books is $25. For $1,000, you can sponsor an entire classroom for the year and be present when the books are handed out at the beginning of the year. As a thank you, your name or company will be displayed on the SCV Education Foundation website donor page and on the bag that contains the Bag of Books.