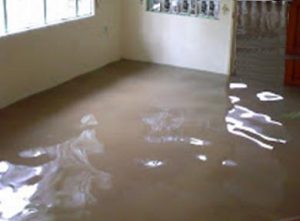 Are you familiar with what is covered under your homeowner's insurance in the case of water damage? It is important to talk to your insurance agent to get a better understanding about what types of water damage are covered and what aren't. For example, flooding, unknown leaks, or on-going maintenance problems are oftentimes excluded from coverage. In the case of heavy rain or flooding from the outside into your home- unless you have specific flood insurance- you most likely do not have coverage.
Inside water damageIn March 2011, Santa Clarita had torrential rain storms that literally blew sheets of rain sideways! As a result, homes and commercial buildings flooded through doors, roofs, windows, roll-up openings, vents, and clogged drains. Drains and sewer lines literally could not keep up with the deluge of water and as a result outside water rose above ground level into homes and buildings. CBC Cleaning and Restoration received over 200 emergency phone calls! Sad to say, the majority of these losses were not covered by insurance. Acting quickly to 1) determine the origin and necessary repair of the water damage source, 2) provide appropriate drying of the structure and contents, and 3) prepare an estimate for the reconstruction required to bring the structure back to its pre-loss condition is critical when resolving a water loss issue.
CBC quickly dispatched certified technicians to these numerous water damages. Experienced technicians detected where the water had traveled within the home or building and prepared an estimate to dry-down and then restore the structure. Believe it or not, water can migrate under wood floors, through walls and end up on the opposite side of a structure! Moisture detectors and infra-red Thermography are tools used to determine if walls, carpet, wood floors, ceilings, and door casings are wet and need drying or disposal.
In the case of flood damage, all porous materials should be disposed of due to being classified as Category 3: Black Water. In March of 2011, many people were very disappointed to learn that not only was their flood damage not covered by insurance, it also was quite costly to repair due to the "Category 3 Water Damage" requirements that all porous materials that come in contact with flood water should be disposed of. This list includes carpet, wood baseboards, drywall, and wood flooring. CBC did it's best to respond to all these losses and discounted their estimates to help customers through this difficult time. In cases where insurance did cover the loss, CBC worked with the insurance companies by providing prompt estimates and upon approval, immediate repairs to the properties. Time is critical in these cases to reduce the overall damage and minimize expenses!
You never know when a water disaster may strike, but when it does CBC Cleaning and Restoration is ready to act. Give us a call at: 661-294-2221, click the 24 Hour Emergency button on this website, or get our App for your phone or other electronic device for constant accessibility by going to www.CBCFirst.com/24hour and bookmarking the page.