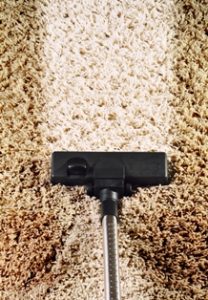 Vacuuming daily is a very important part of keeping your carpet clean. Unfortunately, due to traffic, children, pets and normal wear, your carpet will become soiled and dull.
Cleaning shaggy carpetEventually you will need to have your carpets professionally cleaned. Having your carpets cleaned regularly by a professional has many benefits. Here are a few for you to consider:
Professional Carpet Cleaning:
1) Prolongs the life of your carpet
Dirt is like sandpaper to your carpet. Vacuuming alone does not remove all dirt and soils that have accumulated in your carpet. Regular carpet cleaning by a professional ensures deep cleaning of your carpet keeping it fresh and clean, extending the life of your carpet.
2) Protects indoor quality
Carpet is like a magnet that traps dirt, allergens and bacteria. Without regular professional cleaning these pollutants can build up creating an unhealthy environment in your home. Hot water extraction method cleaning can also remove dust mites and bed bugs that may have found a home in your carpet.
3) Enhances room appearance
Clean carpets create a vibrant, fresh atmosphere in any room. Whether it be at your home or office, a room free of spots and stains is always pleasing. A professional carpet cleaner is not only trained and certified to clean your dirty carpets, but can also treat and remove nasty spots and stains that may have been caused by pets, children or many other everyday accidents. Regular cleanings prevent your carpets from being dull, dirty and depressing.
4) Maintains your carpets warranty
While industry standards recommend having your carpets professionally cleaned every 6-18 months, most carpet manufacturers REQUIRE you to have your carpet professionally cleaned regularly to maintain your warranty. Check your warranty information to find out how often your carpets should be cleaned.
CBC has been cleaning carpets for over 30 years. Using the most thorough and advanced technology and chemistry available in our industry, CBC provides an environment-friendly approach to carpet cleaning. Our truck mounted hot water extraction technique is the cleaning method most recommended by carpet manufacturers. Customer satisfaction is our #1 priority!
All CBC Technicians are trained and IICRC certified in all aspects of carpet cleaning, including specialty spot removal, area rug cleaning, pet odor and stain removal, and auto cleaning. CBC is also a licensed Scotchgard® applicator.