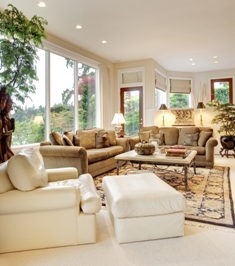 We recently did Spring-cleaning and moved our furniture all around for a new look. Unfortunately, the furniture left terrible indentions in my carpet under our large bookcase and some of the other furniture. I gave it a few days but the carpet is still crushed down. What can I do and can I get my carpet restored?
There are a number of factors that effect how furniture sits on your carpet. Carpet style, the quality of the carpet and the thickness of the pad beneath can make a huge difference in how dramatic the furniture indentions can affect full carpet restoration.
Beautiful llving room carpetMost often a good, professional cleaning can remedy and revive the surface fibers in your carpeting. It is another case, however, if the furniture is very heavy or has been located in the same position for years. Permanent damage can happen due to this scenario, affecting the carpet, backing and padding underneath.
If this is the case with your carpet, the indentions may improve with a professional, and thorough, truck-mounted hot water extraction unit process. This powerful extraction method will positively affect the carpet by lifting and separating the fibers so they are standing upright. Unfortunately, it is not always possible to remove all the indentions, but it certainly will look better.
It's a good idea to move your furniture around regularly and put a pad or rubber footy that is larger than the base, under the foot or leg to distribute the weight. This can stave off damage or any further damage to the padding or backing of your carpet.
The professionally trained and certified technicians at CBC Cleaning and Restoration will be happy to answer your questions and assist you in restoring your flooring by making your carpet or rug cleaner. CBC is a name you can trust in Los Angeles County because we've been helping homeowners in the Santa Clarita Valley for over 35 years now.
Call CBC at 661-294-2221 or click the 24 Emergency service button above to get a quote from our professional team. As a homeowner, you never know when a water disaster may strike, so for your convenience get CBC's 24 emergency service App for your phone at: CBCFirst.com/24Hour and simply bookmark the page.