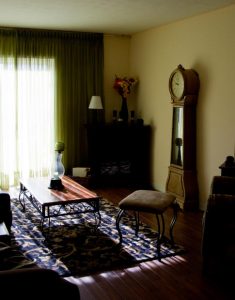 My family is unexpectedly coming to stay with us next week and I have to get my carpets cleaned. How long will it take for them to dry out?
Call CBC Cleaning and Restoration right away to schedule an appointment. We will get you in as quickly as possible, which is usually the same day or the next day so that your carpets look beautiful again.
Clean warm living roomWith CBC's professional system, and our experienced crew, it generally takes four to eight hours (4 to 8 hrs) to dry completely. If you need any upholstery cleaned, that usually dries even faster, within a few hours. There are a few factors that could play into the scenario:
WEATHER – if it is hot and humid or damp and dreary, the carpet will take a bit longer to dry, though not significantly – maybe a couple hours more. On the other hand, a warm, dry and breezy day could decrease the dry time.
AIR MOVEMENT – this will greatly affect the time it takes to dry out carpet, rugs and upholstery. Opening windows and/or doors, placing fans strategically around the rooms and turning on any ceiling fans can all help to decrease drying time. If the furnace fan is turned on it will also circulate air movement throughout the home and dry the carpets quicker.
CARPET FIBER TYPE – the makeup of your carpet may affect how fast it will dry. Loop style, plush, or Berber carpeting can all take longer to dry. This is because the moisture in the fiber is released from the top of the fibers and cut style carpets release the moisture faster than loops.
The make-up of the carpet fiber may also make a difference. For example, dry time of nylon fibers may absorb 150 times more water than polypropylene. But, with the high-tech equipment from CBC, and our water extraction method, this difference is no longer very significant. (I'm not sure what you are saying in the second sentence here?!)
To expedite the job, it is important to move any breakable items from furniture you want moved, and toys and other items that may be cluttering the floor. Once the crew arrives they will place protectors under the legs and edges of the larger pieces to avoid wood stain from bleeding or metal feet from rusting onto the clean carpet. Be sure to wait the recommended 24 hours before moving the smaller items back into the room.
The sooner you get on the schedule the better, so call CBC Cleaning and Restoration today at 661-294-2221. Or contact us here on our website. Your cleaning appointment is only a phone call away, so you can have fresh, clean carpets for your guests.