CBC's CASH STASH GIVEAWAY!
How would you like to find some FREE CASH?!? Yes, we are serious – FREE CASH. CBC Cleaning & Restoration is hosting a Cash Stash Giveaway and you could be our next Cash Stash winner! Each week our mascot, "Little Gordon" (the "mini-me" of CBC's owner, Gordon Glasnow) will stash a cash voucher at various locations across the Santa Clarita Valley. Each cash voucher he hides is redeemable for a crisp, green $100 bill with no strings attached. All you have to do is find it and call CBC Cleaning & Restoration to redeem your "CBC's Cash Stash Giveaway" voucher for $100. We will gladly come to you or you can come to CBC and we will swap your cash stash voucher for actual cash!
HOW DO YOU PLAY CBC's CASH STASH GIVEAWAY?
Ready to find out more about CBC's Cash Stash Giveaway? Well, here are the details: Every Wednesday at 10:00 a.m. we will be posting a photo with a written clue to help you find the exact location of the cash stash voucher that Little Gordon has stashed in Santa Clarita that day. If you think you know where the cash stash voucher is, then go get it! If you are the lucky person to find it, simply call the number on the voucher and let us know! You will then be able to redeem your cash voucher in our office or we will come to you with your $100 cash. You can find CBC's Cash Stash Giveaway clues on our Facebook, Instagram, Twitter, CBC Website, and YouTube Channel.
WHY IS CBC GIVING AWAY CASH WITH NO STRINGS ATTACHED?
Why would a company give away one hundred dollars with no obligation to use their services? Why Not?! We know times are tough right now for a lot of people, so who couldn't use a little extra cash while having fun figuring out the clues and searching for the Cash Stash Giveaway. We understand if you're a little skeptical, but there's really NO catch! That's why we would like to show you some people who have already won their cash prize! CBC's Cash Stash Giveaway is now in it's 3rd week and people are loving it! Check it out – they came in, gave us their cash voucher and we handed them $100 cash. Our only restrictions include: 1) Only 2 winners per household and 2) You must be 18 years of age to play!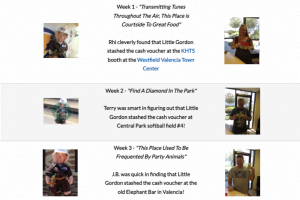 CBC CLEANING & RESTORATION AND OUR COMMUNITY
Here at CBC Cleaning & Restoration, Inc. we are not only committed to providing the best cleaning, repair, and restoration services available but also to serving our community. Our hope is that when you hire CBC you will feel like you've hired a lasting friend who cares and wants the best for you- because we really do! CBC has been serving the Santa Clarita Valley since 1978 and we owe all of our success to this community. This is our thank you to the Santa Clarita Valley- so get out there and find yourself a hundred bucks and become part of the CBC family!
Our goal at CBC is to provide more than just a service to an individual- it's to build a lifelong relationship with them! In business for over 35 years, we are proud to say that most our new customers become "customers for life". We boast a 90% repeat and referral rate! We build relationships with all of our customers because we genuinely care about their well being. We are a family-owned and operated business with long term employees and we want our customers to join our CBC family.