DOs~
1) Call a professional plumber to stop the water and fix the problem.
2) Immediately contact a certified and professional cleaning and restoration company, like CBC, for help. CBC will handle the water damage and bacterial dangers, before greater damage occurs.
3) Make sure as much water as possible is removed from the affected area, either by blotting or mopping with clean, white rags or towels.
4) Electrical circuit breakers that supply electricity to the wet area must be turned off. Make sure small electrical devices that are in contact with the soaked carpet or other wet surfaces are unplugged and removed.
5) Other floor coverings that are not attached such as area rugs should be taken out and cleaned separately.
6) Any furniture skirts should be pinned up, and draperies wrapped up on the rods so they do not make contact with the water.
7) Furniture cushions will dry out evenly when propped up against a wall or chair. Wipe any dampness off all wooden furniture so the finish is not damaged.
8) Cut foil squares to place under all wood furniture legs, especially antiques, so they do not leave rust marks on the carpet.
9) Make it easier for the restoration crew by removing any small furniture pieces or decorative items from the room.
10) Potted plants, books, papers, personal items should all be removed as they could stain the carpet. Make sure to check in places that are not visible like under the bed, closets or furniture.
11) Protect expensive or memorable items like photos, paintings and other artwork by moving them to a safe, dry room so they are not damaged in the restoration process.
12) If cabinets and drawers are wet make sure they are standing open to speed the drying process.
13) Let the restoration company know you need help moving large pieces of furniture onto linoleum, a dry-carpeted space, or into the garage.
14) Do not enter rooms where ceilings are sagging from trapped water.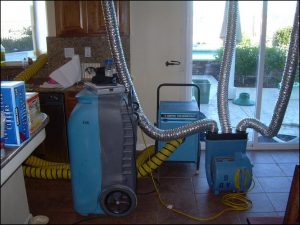 DON'Ts~
Home vacuums should not be used because there is a danger of electrical shock or damage to the vacuum itself.
Small appliances or TVs should not be used if placed on wet carpet or flooring.
Certain papers like newspaper should not be used to cover high traffic areas because ink can be easily transferred onto the wet carpet.
You should not walk on wet carpet because it can damage the fibers even more, so stay off the area as much as possible.
HVAC systems should not be used because they can spread contamination if they have come into direct contact with the water.
If you see mold, do not disturb it because mold spores can travel to other areas of your home.
Call CBC Cleaning and Restoration after a water damage to help get your home, and your life quickly and effectively back to normal.