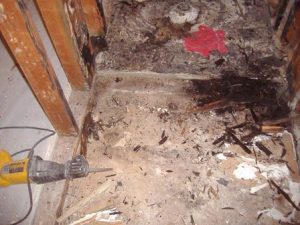 A large facility in the Los Angeles, California, area was experiencing many plumbing issues over a long period of time. In fact, many of the lower level units were in terrible condition and in desperate need of repair due to undetected water damage. They called in CBC Cleaning and Restoration to remedy the damage and bring the rooms back to an acceptable standard.
Los Angeles County water damageCBC's certified technicians began restoration in the kitchen and mold removal throughout the bathroom and two bedrooms. The entire job encompassed three dorm room buildings. Drywall was removed and an ice blasting procedure was applied to the affected framing. Ice blasting is a quick and efficient process, and used when massive areas of framing require sanding.
Water damage you immediately find in your business or home isn't nearly as bad as water damage you don't know about. You can remove the obvious when you see it, then take preventative action against long-term damage. When you can't see it and it has gone undetected for weeks, and sometimes months, as in the case of these buildings, biological growth and structural damage may have already occurred.
Prevention is the best approach. Water disasters can occur for a number of reasons especially in a dorm room situation. Overflowing sinks or tubs, pipe leaks, water back-up and toilet overflows need to be handled immediately. Most of these problems are visible, but hidden water is the greatest culprit. This is where prevention comes into play. Being proactive with inspecting water areas on a regular basis can detect the signs of unwanted water that can become a disaster.
Reading your business or home water meter is a good way to detect a water issue. If you have a base reading you will notice when any changes or increases occur that cannot be explained and might be due to leaks. This procedure could save you a high water bill. If a leak is suspected it is best to bring in a water leak detection specialist. Finding the leak before you find the symptoms will avoid disasters and save money.
These are just a few ways these long-standing damages can be avoided. Should you need an assessment because you suspect undetected water or you see signs of damage, give CBC at call, or click the 24 Hour Emergency Service button above. It's always a great idea to have the CBC App on your phone for continuous access. To get the bookmark App go to: www.CBCFirst.com/24Hour.com and bookmark the page. A convenient App will be placed on your phone.