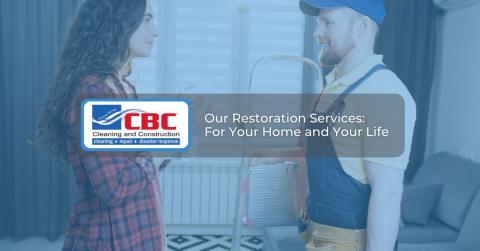 Are you concerned that there might be mold in your home? Do you want someone you can turn to when a disaster damages your property? That's where our many different kinds of restoration services can help. For years, here at CBC Cleaning and Restoration, we've helped so many not just repair their homes in the wake of a disaster but to restore them to a pre-loss state. Whether you're dealing with disasters (or just want your carpet to look and feel better than ever), we can help in a variety of ways.
Mold
In the last few years, unfortunately, so many have learned about the importance of air quality in their homes. Beyond any virus, mold can be a constant concern. Anywhere there is moisture in your home, mold could potentially follow. Unchecked mold can worsen, lowering the quality of life for everyone in your home or business. We can help. Fully IICRC trained and certified, our mold remediators are also members of the "Indoor Air Quality Association". All of that means we have years of experience with identifying and remediating mold in properties just like your own.
Restoration After Disasters
The truth is that our water, mold, and storm damage services are really the beginning. Only once they're completed can we get to work with our restoration. Obviously, every situation is different. But, depending on the damage's extent, we can potentially bring just about everything to pre-loss condition: drywall, cabinetry, ceiling (including paint) and so much more. Moreover, drawing upon the advanced computing program Xactimate, we'll be able to estimate as closely as possible. We believe so much in our restoration work that we provide a two-year warranty on all of the work that we do, too.
Carpet
We're always glad to come out and help in the wake of an emergency. However, you don't have to be in an emergency to call us. Indeed, plenty of our clients call us to take care of their cleaning. That means we use the most cutting-edge, effective cleaning methods on your carpet, upholstery, rugs, and even tiles as possible. We all love our furry friends, yet we know that they can make a mess (while emitting something of an odor, as well). Pet stain removal and deodorization are just two of our specialties. Fully trained and certified in all aspects of cleaning, we can help your home to look how you would like.
Restoration Services for All
We don't believe that anyone should ever have to "settle" when it comes to their home. That means you shouldn't have to settle for a home that's anything less than spotless, or, in the wake of water/fire damage, "settle" for your home looking as it does now. Our restoration can restore your home, often far beyond what the homeowner may initially think possible. You can reach us at any time to see how we can help. Message us through our site or call (818) 709-4661.