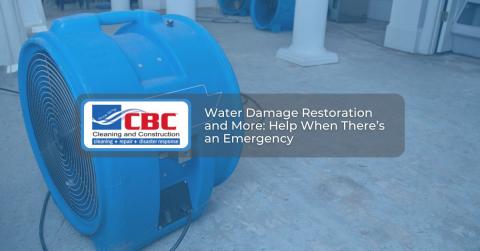 Are you dealing with some kind of emergency damage to your home or property? Do you want to know a smoke, fire, and water damage restoration company you can trust in the event that you need one? That's where we can help. Here at CBC Cleaning and Restoration, we're able to help. That's true no matter when you're reading this. Day or night, weekday, weekend, holiday, it doesn't matter – we're here to help 24/7/365. Moreover, we can do so in a variety of ways.
Water Damage Restoration
Southern California is extremely beautiful, with some of the best weather anywhere in the United States. However, when it rains, that can lead to serious water damage concerns. Should water damage strike, time is of the essence. We understand that there's no time to waste. Thus, our water damage professionals are not only available at any time, but we can also get to your property in a hurry. Responding immediately, we can be "on-site" within sixty minutes of the original call. That way, we can get to work restoring and protecting your property as quickly as possible.
How Our Water Damage Services Work
Once our qualified, experienced technicians get out to your property, they'll assess the water damage thoroughly. Utilizing the best, most cutting-edge tech and equipment, they'll be able to find where mold is, yes, but they'll also be able to find where moisture is, too. From there, they'll be able to extract it and dry down the damaged structure as well. By monitoring the structure daily, taking temperature and humidity readings when necessary, they'll be able to dry it out in such a way that protects your home. Infrared thermography will tell the story, letting us know when your property is as dry as it should be.
Smoke, Fire, Mold, and More
So often, water damage follows smoke and fire damage. Consider: there's a fire on your property. The fire damages your home. The smoke damages it further. Then, the fire crew arrives and waters down the fire, leading to water damage as well. This may sound like a nightmare scenario, but we can help. Our professional, sophisticated documentation experts can remove smoke damage and even odor the right way so that we can do everything possible to restore your property to a pre-loss state.
CBC: Ready to Help
The above are just a few ways that we can help. For example, we've assisted so many in remediating mold concerns as well. If you've been struck by smoke, fire, or water damage, time genuinely is crucial. We work on every property as if it were our own. Now, we can put that experience to work for you. You can reach us at any time, day or night, through our site or by calling us at (818) 709-4661.