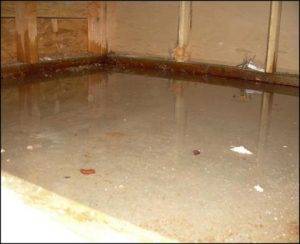 Water Damage
Of all the emergencies a homeowner can face, water damage can be particularly frustrating due to the extent of damage it can cause. Leaks and water damage can cause rusty pipes, rotting wood, cracking, crumbling and stained drywall and especially mold, mildew and bacterial growth.
Aside from the more obvious causes of flooding like bad weather, a clogged toilet or a burst pipe, water damage can also occur from more subtle or unexpected events. These events can include leaky dishwasher or washing machine hoses, and moisture build up behind walls from leaking pipes.
Even a small amount of water damage can have serious consequences, not only for the structure of your home but for your family's health as well if mold develops. Symptoms caused by in-home exposure to mold can range from allergic reactions like watery eyes and sneezing to chronic cough and difficulty breathing.
Homeowners must act quickly when water damage occurs, so that the problem can be solved with less expense, headache and long term troubles. For instance, if carpet has been flooded by clean water and has been wet for less than 48 hours, it can usually be saved and mold growth inside wet walls can be prevented with the use of proper drying equipment. So regardless of whether a homeowner is facing water damage from a major flood or a small but chronic leak, time is crucial to mitigate the problem with the best outcome.
While you can take some steps yourself to clean up and mop up when water damage occurs, it's best to hire a professional water damage expert who can classify the damage by the category of water, disinfectant (if needed), the amount of time, and type of equipment that will be needed to clean and dry it.
The professionals at CBC Cleaning and Restoration utilize the most high-tech equipment and procedures to help you remedy your water damage situation in no time while protecting your house from the headache of wood rot, rust, and possible structural damage. Plus you'll have the added reassurance that mold, fungus and bacteria will not become a long-term consequence of your short-term disaster.
Please visit us at CBC Cleaning and Restoration to find out more about our emergency services, expert advice and no-cost estimates. Experts are on hand to come to your rescue and get your life back to normal 24 hours a day, seven days a week. You can reach us directly at 661-294-2221 or CBCfirst.com to answer any of your Water Damage or Restorationquestions.