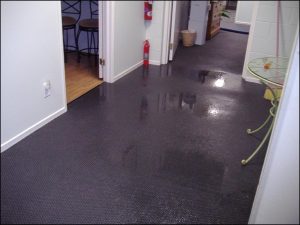 Last night I walked in the den and water was everywhere! My water heater leaked and saturated the carpet. It is our TV room and it's an absolute mess! Can I just move my furniture out into the back yard and let the carpet dry on its own—will it be okay?
water heater leak in homeLeaky water heaters can be a nuisance and cause a great deal of damage. Unfortunately, letting wet carpet dry by itself would be the worst thing to do! Not only can mold and mildew colonize in the wet carpet and underlying floor structure, it can also delaminate the carpet so the under backing separates from the primary backing leading to carpet damage. Today's carpeting is manufactured using synthetic latex to bind the backings. When it gets saturated with water the latex backing may no longer bind.
CBC's certified technicians can evaluate carpet damage and professionally dry it out, if the backing has not been compromised. Our professional extraction and drying process removes most of the water from the carpet which is the most important step. Carpet with underlying padding requires removal and disposal of the padding. Air movers are then placed to dry the carpet, its backing and subfloor. Sometimes carpet is glued down without padding. In either case, CBC uses carpet dryers known as air movers which force a high volume of air across the top of the carpet, quickly drying the fibers and reducing the likelihood of mold and mildew growth.
It is important to run a dehumidifier when drying wet carpets because while all the moisture is removed from the carpet it is transferred to the air. Walls, ceilings, paintings, papers and other surfaces will absorb the water into the air if a dehumidifier is not used and that could cause additional water damage.
A professional approach to a water disaster can lead to less cost and destruction of property. We are sorry you have experienced this water heater leak but please rest assured, CBC is equipped with the latest technology and utilizes fully-trained technicians who will efficiently and effectively return your den and TV room to the space you've always enjoyed. You'll soon be watching your favorite movies again and not have to endure the pungent odor of mold or mildew because your water damage cleanup was completed properly.