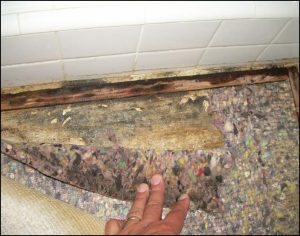 A quick response after a water damage situation is critical! Waiting for the area to dry can promote mold growth, especially after 72 hours. Water destruction can occur within hours to wood flooring, drywall, furniture and personal belongings. It's important to act right away to decrease the risk of damage. The quicker water is extracted, the quicker the structure and contents will dry out.
Carpets should be removed and dried immediately, or discarded, if necessary. You can attempt to use a dry/wet vacuum for small amounts of water removal from flat or hard surfaces. It is best, however, to eliminate water using a truck-mounted extraction. Then, remove and dispose all padding and place air-mover fans to dry sub-floor, walls and carpet. Always be sure to eliminate electrical dangers by removing computers and other electronic devices!
Remember that some water disasters are hazardous to your family's health. Raw sewage or flood waters can contain micro-organisms and bacteria. Prior to proper testing, treat all surfaces and furnishings as if they are toxic and keep children away from contaminated areas. It is best to hire a professional company to handle biological hazards such as Category 3 (sewer) or mold removal, thereby eliminating unnecessary exposure.
There is always the danger of mold occurring after a water emergency that has not been properly mitigated. If mold has developed, action is required through a mold cleanup process that can include air quality testing. There are many biological problems associated with mold and mildew, and while these bio-contaminants can usually be found in areas of any home where water is prevalent (such as bathrooms and kitchens), when large areas are involved the mold can become a problem. It is important to hire trained and certified mold remediators for the cleaning and restoration process after a water disaster.
Mold and other pollutants thrive in damp, humid areas of a home and organic materials such as paper, wallboard, grease, soap scum, fabrics and dirt stimulate their growth. This growth is intensified when a home has been flooded. The mold spores can float to every corner and build up wherever they colonize. If you require mold cleanup in your home or if you have had water damage, it is best to contact a professional to test for contaminants. Some signs to watch for are water stains, blistered paint, constantly moist surfaces and standing water, or if you see and smell the pungent odor of mold and mildew.
The CBC Cleaning and Restoration staff is trained in all areas of water remediation, disaster restoration and certified mold removal. When water damage strikes, we will help get your life back to normal by taking the appropriate actions to ensure the safety of your family, home and/or business. We perform 24 hour emergency water damage service, as well as onsite mold evaluations to create a detailed plan of action for your peace-of-mind.