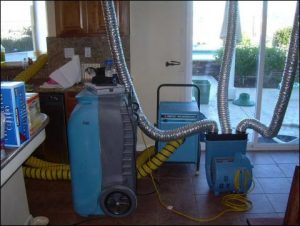 Water Damage Emergency
Water damage in your home can be devastating. Many water damage victims feel overwhelmed. Water not only can destroy your property, damage your memories and disrupt your life, it can also cause health problems for you and your family if not handled properly. Mold and mildew are a huge issue for homeowners who are either unaware of an on-going leak in their home or have not properly dried their home after a water intrusion occurred. Water damages should be taken care of as quickly as possible to avoid the development of mold. Just because you have had a water intrusion does not mean you will have mold. Mold development is eliminated if 1) the source of the water loss is detected and fixed, and 2) the structure, flooring and contents are thoroughly dried within 3-4 days time. Be aware that ground water or sewer back-ups are Category 3- Black water losses and should be cleaned, disinfected and dried by professionals to avoid any health risks. Once completely dried, the restoration of a water-damaged property is then possible by following some of these tips:
Your first priority is to stay safe. Many people do not realize just how dangerous a flooded home can be. Before you try to reenter a flooded home, make sure that the power is off. Never attempt to turn on your home's power supply before a licensed electrician inspects the premises. If the flooding occurred from rainfall, consider that ground water may have seeped into your home. It is necessary to avoid coming in contact with this water as it may contain pesticides, pollutants, and waste. Flood waters are considered Category 3 Black Water and must be handled safely by a professional. You should discard or thoroughly disinfect any personal items which may have been exposed to flood waters. Consider professional cleaning, disinfecting and drying of your structure before moving back in.
Lost time is the enemy of the successful restoration of your home. It is necessary to get your home dry as quickly as possible. A wet-dry shop vacuum can be used in situations where carpets are wet and there is less than an inch of standing water. For deeper standing water, you will want to call a professional emergency / restoration company that can provide truck-mounted extraction to remove the water from your home or business. Once you remove all the standing water you need to dry your structure as quickly as possible. Commercial fans and dehumidifiers can be used to remove as much of the moisture as possible.
Dealing with the restoration of your home after a flood can seem like a never ending nightmare. Most often, homeowners are not able to do it alone. Professional companies who specialize in the restoration of flood damaged homes can be the answer to your problems. CBC Cleaning and Restoration has been successfully helping homeowners and business owners navigate through the emotional stress and inconvenience of a water damage for over 35 years! CBC provides emergency dry-down services as well as complete restoration of the structure to bring your dwelling back to it's pre-loss condition.
Many homeowners in the Los Angeles, Santa Clarita Valley and Ventura areas who have suffered a water damage have depended on CBC Cleaning & Restoration to help them recover after their loss. CBC is ready to help you when you need us the most. You can reach CBC any day or time at 661-294-2221 or CBCfirst.com.