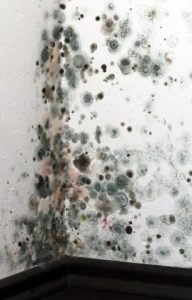 Mold Remediation Company
Molds naturally occur in indoor and outdoor environment. They belong to a group of living organisms called fungi and their job is to recycle nutrients in the environment by breaking down plant and animal debris. Molds need moisture and food to survive. Inside your home, the moisture source may be leaks, from indoor activities (showers, poor ventilation) or flooding, and the food source may be building materials such as drywall.
Some indicators of mold in your house include visible water damage and stained areas on ceilings walls or other surfaces, an earthy or musty smell, and physical reactions like sneezing, itchy eyes or respiratory problems. Molds inside your home can cause permanent damage and may also be a health hazard especially to those who are very young or old, or already have chronic respiratory illness.
A mold remediation evaluation and action plan should identify and repair the source of the water damage and remediate all bio-contamination areas so your home is returned to a healthy condition. To find a good mold remediation company you should get more than one estimate.
Look for companies that:
Are certified for mold remediation (AMRT- most common is through IICRC, Institute of Inspection, Cleaning, and Restoration) and have on-going employee training.
Can provide you with proof of insurance (liability, pollution and worker's compensation).
Provide you referrals from their most recent customers so you can ask about their satisfaction with their mold remediation work.
Will conduct an onsite mold inspection and provide you with a written report that should tell you what was inspected, the source of the mold so it can be repaired, and steps/cost of the mold remediation.
Can refer you to a Indoor Air Hygienist that has a case-by-case approach to sampling. It is a conflict of interest if the remediation company does the air testing as well! In some instances, where mold is readily visible and a source is identified, sampling may only be necessary after remediation.
Avoid contractors that:
Claim to remove all molds from your home and say that it will never come back, which in reality is not feasible.
Seem to use hysteria and scare tactics as a sales technique.
Offer cost estimates by phone that seem surprisingly low.
Cannot provide you proof of mold remediation certification or liability insurance.
If you are concerned about a possible mold problem in your home call us today at 661-294-2221 or email us at CBCfirst.com for a free evaluation and cost estimate. CBC Cleaning and Restoration are specialists in cleaning and restoration serving the Los Angeles, Santa Clarita Valley and Ventura areas since 1978. CBC also provides round-the-clock water disaster emergency services.