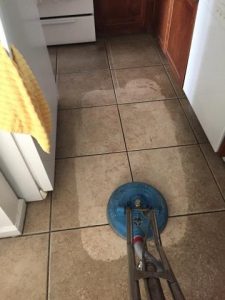 Professional Tile/Grout Cleaner
With autumn on the way, it's time to think about freshening up your house with some end of summer cleaning. Reorganize closets in preparation of stowing away summer clothes and light bedspreads and dig out the layers and thicker blankets. Tile/grout cleaning needs to be included on your seasonal to-do list. Why? Because decorating your home for the changing seasons is an inspiring change but your efforts fall short when your floors are showing the remnants of summer dirt, pet stains and party spills.
Thoroughly wiping up occasional spills helps to keep your tile floors looking good but eventually residue builds up and dulls their surface. Grout can be harder to keep clean because small particles get easily trapped in the ridges. A regular mopping is acceptable for surface cleaning but eventually you're going to have to use elbow grease and some thorough scrubbing to clean grout lines. With school back in session and your life even more hectic, avoid the hassle of tile and grout cleaning and call in expert help from CBC Cleaning and Restoration.
The professionals at CBC understand the unique cleaning requirements for various types of tile, from ceramic to natural stone. They know how to properly handle your kitchen, bathroom, and interior and exterior tile and grout cleaning requirements with the best possible equipment and cleaning products. Our technicians will restore your floors to their original luster. This type of regular maintenance can extend the life of your well-traveled surfaces.
Tiled counter tops are another area that can become dirty quickly. Grout lines can become a nightmare to clean when food and liquids are absorbed into the grout, thereby staining it and potentially hiding bacteria. Granite makes for beautiful countertops but certain types need to be cleaned delicately despite their durable appearance. Why risk damaging your expensive and beautiful surfaces? Save yourself the time and the frustration by calling on a professional for cleaning and sealing your tile, grout, and/or natural stone. CBC's technicians extensive experience cleaning and sealing all types of hard surfaces.
Showers and tubs are supposed to be your oasis and personal spa at the end of the day. When your shower and tub tiles get water spots, soap scum, and possibly signs of mold or mildew, they lose their beauty and appeal. Don't miss a single moment's enjoyment from your personal spa by enlisting the help of professional tile and grout cleaning professionals like CBC Cleaning and Restoration.
Our experts at CBC are dedicated to providing maximum longevity and beauty from your hard surfaces with our variety of tile and grout cleaningequipment and cleaning products. Contact CBC Cleaning & Restoration today to learn how quickly and affordable your hard surfaces can be restored back to new!!! Call 661-294-2221 or email us at CBCfirst.com