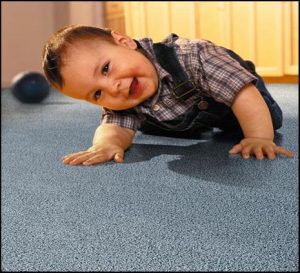 Kids, Pets and Clean Carpet
Though carpet is warm, inviting, and makes our homes comfortable, it can also have a down side if not taken care of properly. The fibers, backing and pad can become a breeding ground for dust and other allergens, such as mold, dust mites and fungi.
Many families with children and pets avoid putting carpet throughout the house. It can be an unhealthy situation for kids if the carpets are not vacuumed regularly and professionally cleaned every 12 to 18 months (most carpet manufacturers recommend carpet be cleaned within that timeframe to maintain their warranties). Air bound dirt particles and pollutants can be inhaled and if a child is sensitive to allergies it could pose an unhealthy environment. And, of course, there is the "food factor," where spills, stains and general messes can happen in a child's bedroom or bathroom, and actually go undetected until an odor alerts everyone. Pet accidents are other sources of contaminants and pollutants in your home that should be handled promptly and effectively to avoid more costly repairs.
Fortunately, CBC Cleaning and Restoration is equipped with the latest technology and products in the market to get, and keep, your carpets fresh, clean and healthy for the family. Our certified technicians are professional and experienced, and they will get the job done quickly and effectively. CBC uses a truck-mounted cleaning system that disinfects and eliminates the dust and germs. CBC can also treat carpeting with Scotchgard® to make blotting up spots and spills easier so it will stay clean longer.
Keep your home healthy and cozy by making sure your carpet is professionally cared for and protected regularly. Set up a cleaning schedule for your convenience. CBC has been cleaning residential and commercial carpets in Santa Clarita Valley, and surrounding areas, for over 35 years. CBC is voted Signal's 2013 Best Residential and Commercial Carpet Cleaning Company in Santa Clarita Valley! Give us a call today to schedule your next cleaning for home or business at 661-294-2221.
No one ever likes to think about home disasters- but, if you are a homeowner, it is always a possibility that your property could be damaged by water, fire or mold. You can be confident that CBC Cleaning and Restoration will be there to help you no matter what the problem. Get our cell phone App so you are a button away from getting the services you need. Go to www.CBCFirst.com/24Hour and bookmark the page.