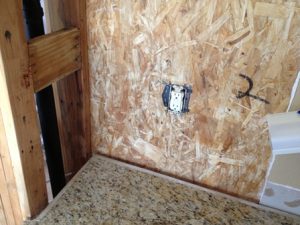 Everyone experiences a water damage in their home at least once in their life. A clog in the toilet can make life miserable causing the commode to fill beyond capacity and pour onto the bathroom floor.
This is what happened to a home in Agua Dulce, California. Unfortunately, the bathroom was upstairs and the water passed through the second story sub-flooring and down through the family room ceiling below.
Upstairs water damageAlthough periodic home inspections can prevent many leaks from happening in a residential or commercial dwelling, in this case it probably would not have helped. Remember that some water disasters are hazardous to your family's health. Raw sewage, such as a toilet overflow from beyond the trap, sewer line back-up, or flooding from an outside source can contain micro-organisms, bacteria, pesticides and biocontaminants. When water damage strikes, one of the most important, immediate steps to take is finding out the source of the water. A determination of whether the water source is considered clear, grey, or black is extremely important so that the emergency response is handled correctly based on the possible health issues and remediation requirements. If it is a clog or water pipe issue, a plumber should be called first.
In the case of a grey or black water (sewage) loss, residents are best relocated to another location. In the meantime, trained technicians must wear protective gear and begin the process of removing and disposing of affected porous materials such as drywall, carpet, carpet tackstrip, wood flooring, and baseboards to name just a few items. All materials and areas need to be disinfected for handling, disposing, and making the structure safe for work to continue. Oftentimes, a hygienist is called in to test the site for hazardous contaminants, pathogens, bacteria, and/or infectious agents.
As soon as the dwelling is disinfected, affected materials and items removed, and drying equipment placed, the mitigation process is underway. Once drying and disinfection is accomplished, the restoration work can begin and the dwelling can be brought back to its pre-loss, clean and safe condition. Any water damage is stressful and disruptive, but a black water loss is by far the most traumatic.
The CBC Cleaning and Restoration staff is trained in all areas of water remediation, disaster restoration and certified mold removal. When water damage strikes, we will help get your life back to normal by taking the appropriate actions to ensure the safety of your family, home and/or business. We perform 24 hour emergency water damage service, as well as onsite mold evaluations to create a detailed plan of action for your peace-of-mind.
For quick response, click the 24-Hour service button located at the top of our website page. Also, for your convenience, get our bookmark App by going to www.CBCFirst.com/24Hour from your cell phone or other electronic device. Bookmark the page and you will get our CBC App on your phone which will connect you directly to the services you need, when you need them.
water damage, disaster restoration, water remediation, home inspection, repairs and restoration, micro-organisms, cleaning and restoration, mold cleanup, mold remediators