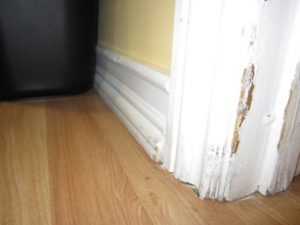 A professional facility in West Hills, California, experienced an upstairs toilet overflow. The contaminated water leaked down through the ceiling of the office in to the office space below. The property management company called CBC Cleaning and Restoration.
West Hills toilet overflowAfter an assessment, the CBC certified technicians determined that all ceiling tiles, flooring, walls and baseboard needed to be replaced. In addition, during demolition, the offices required containment so other areas of the building were not cross-contaminated.
According to the IICRC, there are three types of water damage that carry different levels of severity. This professional building was technically a "gray water" scenario, however, because it originated from a bathroom area, all care was taken to make sure those occupying the building would know the facility was completely safe and their health was not at risk.
Here is a list of the three different levels of water damage along with a description of their characteristics:
1) Clean water damage: This is water that is not contaminated at all and is completely safe for physical contact. A broken pipe or an appliance with a leaky connection tube would be examples of this type of water, or even rain water through a leaking roof. The only danger with clean water (if it's not removed within 24 hours), is the possibility of mold growth and mold spore colonization.
2) Gray water damage: This water is lightly contaminated, and therefore, dangerous for physical contact and can cause people to become sick. If clean water is left too long it can also become gray. Gray water is any water that has been used for a purpose, like dishwasher water or from the washing machine. This type of clean up requires technicians to wear special gloves and boots to ward against the possibility of microbes.
3) Black water damage: This water is the most highly contaminated and can contain bacteria, chemicals, pesticides and fungi. It is usually attributed to a natural flood situation or sewage overflow. Make no mistake, this contamination is extremely dangerous and can cause sickness and even death if not addressed properly. It must be cleaned and disinfected and all porous materials disposed of. This type of loss should be handled by a professional company such as CBC Cleaning and Restoration.
For quick response to any water disaster, click the 24-Hour service button located at the top of our website page. Also, for your convenience, get our bookmark App by going to www.CBCFirst.com/24Hour from your cell phone or other electronic device. Bookmark the page and you will get our CBC App on your phone which will connect you directly to the services you need, when you need them.