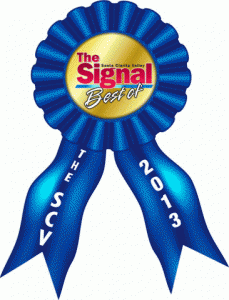 Santa Clarita Water Damage Company
CBC Cleaning and Restoration has been successfully serving the Santa Clarita Valley, Los Angeles, and Ventura counties for 35 years. CBC offers 24 hour emergency service for water, fire, and mold, full repair service such as paint/drywall, flooring, and cabinetry and state-of-the-art cleaning of carpet, tile/grout, upholstery and area rugs. In fact CBC Cleaning & Restoration was recently awarded the title of The Signal's "Best Residential and Commercial Carpet Cleaning Company in the Santa Clarita Valley"! Below are some important tips to consider if you unfortunately encounter a water loss in your home or business.
Speed is Essential
When a water damage occurs, time is the most critical factor. Homeowners must act quickly when water damage occurs, so that the problem can be solved with less expense, headache, and long term troubles. If the carpet has been flooded by clean water and has been wet for less than 48 hours, it can usually be saved. Mold growth inside wet walls can be prevented with the prompt use of proper drying equipment. Whether a homeowner is facing water damage from a major flood or a small but chronic leak, time is crucial for creating the best outcome.
Always On Call
CBC Cleaning & Restoration maintains an on-call certified crew 24/7. We are "on-site" within 60 minutes of your call! Our company maintains IICRC certification to clean up all categories of water damage as per the guidelines of IICRC S-500 reference guide. Highly qualified technicians are dispatched so that CBC can assess the water damage, and utilize state of the art technology to detect moisture, extraction equipment, and dry-down of the damaged building. To ensure thorough drying, CBC's certified technicians monitor the structure daily while taking temperature and humidity readings for support and evaluation. Infrared Thermography will be utilized to assure proper drying has occurred.
Serious damage can also occur from subtle events such as a leaky dishwasher or washing machine hose, and pipes leaking inside walls which cause moisture and mold to develop. For this reason, it is always a good idea to periodically check your home or business for signs of leakage. Check cabinets under sinks for warped shelving, walls with peeling, flaking paint or black specks. Enter inside rarely used rooms (especially bedrooms near a water heater) to check the carpet and baseboards if they are damp and coming away from the wall. Does a room smell moldy or damp? If so, immediately investigate the flooring and walls for signs of moisture. Finding these problems sooner than later can save your literally thousands of dollars! And, if you need assistance- CBC Cleaning and Restoration offers free estimates.
It's best to quickly contact a professional water damage expert. A professional can determine the damage for repair estimations and also for validation with your insurance carrier. Experts evaluate losses by the type of water, the amount of time, and the type and amount of equipment needed to clean and dry the building to a satisfactory condition. What to Do First
Please call us at CBC Cleaning and Restoration to find out more about our emergency services, expert advice and no-cost estimates. We are glad to answer any water damage or restoration questions. We are experts and are on call to get your life back to normal 24 hours a day, seven days a week. You can reach us directly at 661-294-2221 or CBCfirst.com.