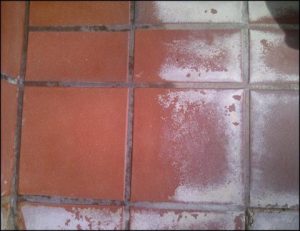 Does your tile and grout not look as clean and beautiful as it once did? With continuous foot traffic, there isn't any wonder why your tile and grout have a faded, worn and unclean look. Depending on the severity of the grout and tile, it is possible to perform the tile and grout cleaning yourself, especially when it comes to general maintenance. However, it is important to contact the professionals at CBC Cleaning and Restoration when the job is just too much.
Tile and Grout Cleaning
For your general tile and grout cleaning maintenance, one of the best cleaning solutions at your disposal is a cup of oxygen bleach with warm water. The oxygen bleach is going to help remove some of those more stubborn stains, all without causing damage like traditional bleach would. Pour the mixture onto the flooring and make sure the group is completely saturated. Allow it to sit for a minute, then scrub the grout and tile with a nylon-bristled brush after about 30 minutes. Make sure it is a nylon-bristled brush, otherwise you are going to end up damaging your tile. Once finished, clean off the residue from the cleaning process with clean water. Do remember though, while this works for general stains, anything more difficult is going to require the assistance of professionals. There are some cleaning tools not available to the general public that can be utilized. Often times, when you might believe all else is lost and think it might be time to replace the grout and tiles all together, CBC is there for you.
Tile and Grout Restoration
If you want to tackle tougher stains on the grout, you need some more powerful cleaning tools. For this, add a cup of baking soda into a cleaning bucket, then combine it with a half cup of chlorine bleach. Mix the combination with a painting stick, then dip a toothbrush into the thick paste you created and use it to scrub along the grout. This makes an excellent grout cleaner, but it is not always suitable for your tile and while it does help with difficult stains, you may still need to bring in tile and grout cleaning professionals to assess your work and perform more extensive restoration services such as polishing, removing stains, cleaning, and sealing .
For more information and tips on cleaning your tile floor and grout, please visit us at CBC Cleaning and Restoration. We can be found online at www.CBCFirst.com or you can reach us directly at 661-294-2221 to answer any of your flooring or restoration questions.