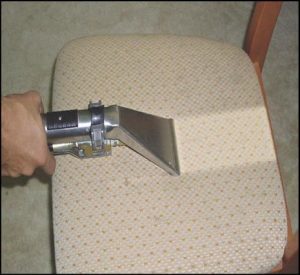 Cleaning Upholstery in Santa Clarita
The good thing about carpet is that it's designed to hide dirt and soil, so the need for cleaning is not always as noticeable as upholstery. Most of us vacuum our rugs and carpets regularly, which helps lift the dirt and keep it looking and smelling fresher longer throughout the home. By vacuuming weekly, it also helps to extend the amount of time between professional cleanings.
But, upholstery is a different story. Chairs, love seats, drapes, couches, ottomans, and other upholstered items attract dirt, soil, and the oils from our bodies, pets, clothes and the air. Your upholstered pieces can absorb as much grime and circulating dust and pollutants from your environment as your carpet, and therefore, they should also be vacuumed on a regular basis. But, most of us vacuum our furniture only when we do deep cleaning, maybe twice a year.
The American Furniture Manufacturers Association advises, upholstery should never be allowed to get visibly soiled, to the extent where the fabric actually changes color. In a typical home environment, the upholstery should be professionally cleaned ever 18-24 months. Some furniture pieces get used far more than others. A favorite couch of the dog's or the ottoman where the cat curls up everyday will get soiled much more quickly. Whereas, the small love seat in the entry never gets used and stays cleaner longer.
The technicians at CBC Cleaning and Restoration will be very happy to test clean any furniture upholstery you might have, so you can see the visible difference a cleaning will achieve. If the upholstery has spills, spots or other accidents we can handle it all with our professional cleaning products and equipment.
It's always good to remember when you begin to see the dirt on your upholstery or carpet, it is definitely the time to protect your investment and get them cleaned. Give CBC a call right away at: 661-294-2221, to get on the schedule. Many times we are able to accommodate same-day service, or at least the next day.
We have been cleaning the carpets and upholstery in Santa Clarita Valley, and the surrounding areas for over 35 years. We always enjoy working with people who love their homes and want to maintain the clean, comfortable atmosphere for their families. Give CBC a call today.
And, as a homeowner, you never know when a fire or water disaster may strike. Get the CBC Cleaning and Restoration cell phone App for a direct connection to "help" when you need it. Just type in www.CBCFirst.com/24Hour from you cell phone and bookmark the page.