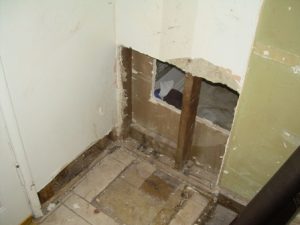 A homeowner in Mission Hills, California, had a water damage situation in their kitchen when the icemaker hose came loose from the back of the refrigerator. This water leak caused major damage to the cabinetry. In addition, because this was an older home it had the old-style sub-floor which had to be repaired.
Water damage of Mission Hills homeAs a past client of CBC Cleaning and Restoration, this homeowner did the right thing immediately and called on the experienced and certified technicians at CBC. We were able to mitigate the situation quickly which limited damage and costly repairs for the homeowner.
When a disaster strikes, calling a professional, like CBC, is the second item on the list to complete after turning off the main water source to the home!
From there, removing artwork, drapes and furniture can help keep moisture damage to a minimum. Please remember, if water disaster is from sewage back-up or flooding, some items may need to be thrown away to avoid contamination and health concerns.
To ensure your home or business gets restored to its pre-disaster condition, contact your homeowners or business insurance adjuster right away. This is not a do-it-yourself situation because your health, property, and personal belongings could be at risk. You can be confident that CBC will complete the job quickly and professionally right the first time through our mitigation and restoration services.
At first glance, a water damage situation in an area of your home or business probably will not reveal the entire affect of the situation. All surrounding areas must be considered and inspected to be certain the damage has not spread farther than first thought. Though this can be a difficult time, realizing the entire scope of damage and taking quick action will ultimately save time and money.
A water damage situation is never fun, but like the homeowners in Mission Hills, it can be resolved with awareness and professional help. Go to www.CBCFirst.com/24Hour from your cell phone or other electronic device and get our bookmark App for quick response, should a water disaster strike.