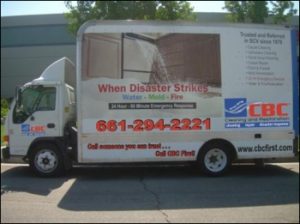 When a leak happens in a home many homeowners try to save money by performing the cleaning and even the restoration of their property themselves, instead of hiring a professional to protect their investment.
With a small water leak, this may be okay and quickly resolve the issue. But, in the event of a major water disaster, including standing water or a leak that persists, what you do or don't do can amplify the situation.
Here are some things to consider:
INSURANCE: Many times emergency water response and restoration services are covered by your insurance plan, your own work and supplies are not. In addition, for your insurance to cover a problem, they may require the clean-up to be handled by a professional crew with certain specifications. Usually the company must be certified by the Institute of Inspection, Cleaning and Restoration (IICRC), like CBC Cleaning and Restoration.
SECURITY: A professional company, like CBC, dispatches technicians who not only remove the water, but scientifically dehumidify the area and check for the presence of bacteria or pathogens in the water. These efforts may require additional steps including disinfecting and possibly removing any damaged and affected building materials such as baseboards, drywall, and flooring.
HOME VALUE: Once there is a water damage in a home, there are clues that the damage occurred. A certified professional cleaning and restoration service will assure underwriters, potential buyers and inspectors that the situation was handled properly and professionally, and the house remains sound.
RISK: When the water damage is resolved professionally, it assures renters and home buyers that the home has been brought back to its pre-loss condition while adhering to the highest standards. The possibility that any new water damage can be blamed on a past water damage is non-existent when there are no pre-existing conditions present. It also ensures that mold growth is not an issue, and does not become an issue.
When water damage strikes, putting your home into the hands of an expert assures the best possible outcome. One of the great things about CBC is that we are available 24 hours a day, seven days a week. When you have a water disaster, it usually happens at the most inconvenient time. Having a service available at any time day or night can make the difference between a simple cleanup and expensive repairs and renovations.
For your peace of mind, put CBC's mobile bookmark App on your phone for fast service and quotes. Go to www.CBCFirst.com./24hour, from your phone and get the bookmark App right now! You never know when disaster may strike. We are here to help.