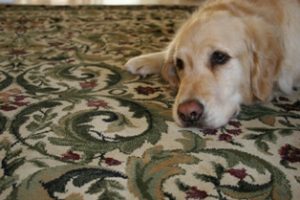 How do I deal with my soaked area rug? My kitchen sink leaked and water poured all over the tile and onto the living room floor.
Since you've identified where the water is coming from make sure the source is turned off and call a plumber to fix the pipes. The next step is to start the process of drying out your area rug, depending on the extent of the wetness. If it is just slightly damp, getting as much water out of it as possible will prevent any damage to the rug, floor, and keep mold from growing. Lifting the rug off the floor or onto the back patio or garage will assist in the drying process. Once the area rug is removed, place fans around the room so the entire area thoroughly dries over the next day or two.
If the floor has been saturated, however, removing the area rug completely is the best approach to allow the floor underneath to dry out. Never allow the wet area rug to sit on the floor for a long period of time because it will do more damage to the rug itself and the floor surface beneath. If the area rug is large, and you've experienced a more extensive water damage situation, seek the services of a professional cleaning company like CBC Cleaning and Restoration. Not only will we be able to help move your wet area rug, we can also thoroughly dry the floor underneath and prevent any invisible damage.
One of the great things about CBC is that we are available 24 hours a day, seven days a week. When you have a water damage, it usually happens at the most inconvenient time. Having a service available at any time day or night can make the difference between a simple cleanup and expensive repairs and renovations.
For your peace of mind, put CBC's mobile bookmark App on your phone for fast service and quotes. Go to www.CBCFirst.com./24hour, from your phone and get the bookmark App right now! You never know when disaster may strike. We are here to help.