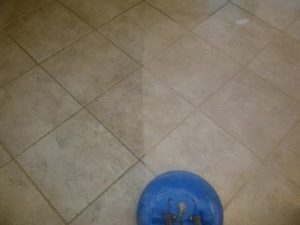 A natural stone or man-made tile floor is a major investment for any homeowner. While these materials are one of the most dependable and long-lasting of flooring options, they still must be properly cleaned and maintained to retain their aesthetic appeal and durability.
The most basic step in keeping your tile floor clean and looking as good as possible is to keep it free of debris that can accumulate in grout lines and possibly scratch natural stone surfaces. For this reason, every homeowner with a hard surface floor should do a minimal sweep and/or mop at least every other day.
Unfortunately, the rest of the process for tile and grout cleaning takes a little more time and a lot more effort. Using the right cleaning agent is the first requirement. Immediately cleaning up spots and spills will help to avoid permanent discoloration of grout lines and natural stone. Professional hard surface cleaning products are the best choice to avoid buildup of wax, residues or chemicals. The entire floor can be treated in the same way. While a homeowner can clean with a mop or even towels, it is a fairly grueling process when it comes to cleaning grout lines without the proper equipment. Grout is a porous material and easily absorbs all liquids, spills, dirt, and grime. And, grout lines usually are lower than the surface of the tile or stone and become a likely place for soil, dirt, and spills to accumulate. A professional grout/tile cleaning with sealant application is recommended every 12-18 months to keep floors looking new for years to come. Truck-mounted, hot water extraction cleaning with special grout cleaning equipment and tools is the most thorough method for keeping your grout and hard surfaces looking like new.
After the tile and grout is thoroughly cleaned, a sealant should be applied to help keep stains and other adulterants from affecting the grout lines and surface of the floor. There are a variety of "over-the-counter" sealants but the best product would be through a professional because it will be commercial strength. Again, the process is not particularly difficult to accomplish if you have the proper knowledge and tools but can take a considerable amount of time for non-professionals.
All of these steps are within the ability of most homeowners but they do require the right tools, a lot of patience and sometimes quite a bit of experience to deal with any of the more complicated issues. In many cases, it is far more affordable and time-saving to use a professional tile and grout cleaning service instead of doing it yourself.
For more information and tips on cleaning your tile floor and grout, please visit us at CBC Cleaning and Restoration. We can be found online at www.CBCFirst.com or you can reach us directly at 661-294-2221 to answer any of your flooring or restoration questions.