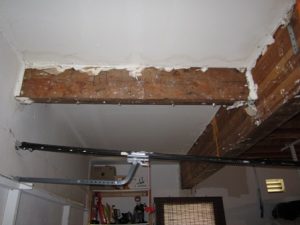 A ruptured toilet supply line in a home in Saugus, California, caused flooding to the upstairs master suite. It also damaged the entire flooring surfaces through to the first floor. The flood was far-reaching as it extended into the downstairs areas including the ceiling, walls and baseboards of the bathroom and the ceiling of the garage.
Saugus water damageThe homeowner called CBC Cleaning and Restoration for expert help. When CBC arrived within 1 hour, assessed the structure, and began to dry out all the areas affected so the homeowner would avoid even more costly repairs from mold growth. Fortunately, the water was clear and did not require a black-water clean-up. Drywall, baseboards, and flooring were replaced and the underlying structure was inspected and determined to be sound.
CBC's certified technicians explained the importance of drying the structure within 48 hours. They also explained to the homeowner that doing their own periodic inspections of their home for potential water issues can help avoid this type of disaster in the future. All bathroom, laundry room and kitchen pipes and flex lines should be assessed for integrity and potential leaks.
When a home is inspected for potential water disasters, the owner is protecting their investment. In addition, exterior inspections can also ward against water damage, especially along the gutter system around the home. If there is dripping from the gutters or even overflow, there's probably a back-up or clogging of the channel. It is imperative that the water run freely away from the structure.
Reading the water meter is a good way to detect a water issue, as well. Recording a base reading allows for comparison later and any changes or increases will be evident. This procedure could save a high water bill. If a leak is suspected it is best to bring in a water leak detection specialist. Finding the leak before there are symptoms will avoid disasters and save money.
If you have a water leak in your home, call CBC for quick a response. Click the 24-Hour service button located at the top of our website page. Also, for your convenience, get our bookmark App by going to www.CBCFirst.com/24Hour from your cell phone or other electronic device. Bookmark the page and you will get our CBC App on your phone which will connect you directly to the services you need, when you need them.