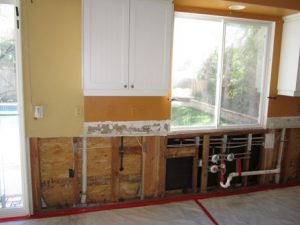 A flood in a Stevenson Ranch, California home caused unsalvageable damage to the lower cabinets in the kitchen. The homeowners called CBC Cleaning and Restoration to clean up the flooded area and repair and replace the cabinets. As per the homeowner's request, our expert team acted fast to dry out the wet surfaces and then constructed new cabinets, using the original doors and drawers to match the existing style.
A rapid response after a Stevenson Ranch cabinet restorationwater situation is critical. Water destruction can take hold very quickly as in the case of this homeowner's cabinets. The quicker water is extracted, the quicker the structure and contents will dry out, causing less deterioration of cabinetry, furniture, flooring, and other surfaces.
Rugs and carpets in any flooded room, including the kitchen, should always be removed and dried immediately, or discarded, if necessary. After calling a professional company, like CBC, you can attempt to use a dry/wet vacuum for small amounts of water removal from flat or hard surfaces. It is best, however, to have CBC's certified technicians eliminate the water using their powerful truck-mounted extraction equipment. A thorough evaluation utilizing state-of-the-art moisture detection equipment and infra-red cameras is always included in every CBC emergency service.
It's important to remember that some water disasters are hazardous to your family's health. Raw sewage or natural flood waters can contain micro-organisms and bacteria. Therefore, prior to proper testing, treat all surfaces and furnishings as if they are toxic and keep children away from contaminated areas.
The CBC Cleaning and Restoration staff is trained in all areas of water remediation, disaster restoration and certified mold removal. When water damage strikes, we will help get your life back to normal by taking the appropriate actions to ensure the safety of your family, home and/or business. We perform 24 hour emergency water damage service, as well as onsite mold evaluations to create a detailed plan of action for your peace-of-mind.
For quick response, click the 24-Hour service button located at the top of our website page. Also, for your convenience, get our bookmark App by going to www.CBCFirst.com/24Hour from your cell phone or other electronic device. Bookmark the page and you will get our CBC App on your phone which will connect you directly to the services you need, when you need them.