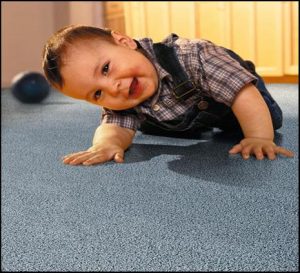 Carpeting and rugs make a home warm and inviting. While they are soft under foot, and squishy between your toes, they can be a disadvantage compared to other flooring like tile, slate or wood. They can also hold in dust and germs if not taken care of properly.
When people wear shoes in the house, spill drinks, drop food or have pets (that have accidents), the carpets in any home can become very dirty, very quickly. Carpet cleaning is an absolute necessity especially if there are kids or pets running around. While carpets can be self-cleaned, bringing in a professional crew on a regular basis is an optimum approach to keeping your home clean.
How often a carpet is cleaned depends on the amount of use and specific conditions. Carpet fiber manufacturers recommend that carpets be professionally cleaned using the truck mounted hot water cleaning method every 12-18 months to maintain their warranties. There are basic cleaning methods like dry powder, foam, shampoo or steam cleaning. While home-remedies might save money in a pinch and make the carpet look a little cleaner than before, a professional cleaning service performed by certified technicians will last far longer and protect the carpet from further soiling through scotchgard applications.
Carpet cleaning services can be performed using different techniques and the costs associated with those techniques can vary greatly. A truck-mounted, hot water extraction unit is the most effective equipment to remove deeply embedded dirt and grime from your carpets and rugs, and should be performed by a trained professional.
If your carpet has experienced unusual circumstances like water damage or fire damage, it is extremely important to call a professional to try to save your investment. In addition, it will help to clear the air, help eliminate any odors and return the indoor environment back to a healthy situation for you and your family. The techniques, products and services of a professional cleaning company, like CBC, can take care of the problem and eliminate further environmental and health issues.
CBC has been handling water damages and many other disaster situations for 35 years in the Santa Clarita Valley and surrounding areas. We are a company you can trust and our certified technicians will restore your home back to its original state. For your convenience, get our CBC bookmark App for your cell phone or other electronic device at www.CBCFirst.com/24Hour.